About the Artist
A Brief History
"Along with some God-given talent, I have spent the last 20 years learning, practicing and being dedicated to my craft. My art eduction was a valuable tool, but nature has proven to be the best teacher out there." -Jonathan Luczycki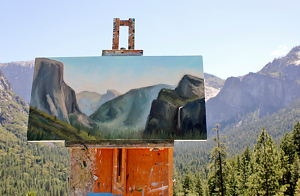 "Yosemite Valley View" 12x24 inches. June 2012
Jonathan Edward Luczycki (Lou-ziss-key) was born in Springfield,OR and was drawing before the age of three years old. He started selling sketches of Disney characters while on recess in grade school for a quarter each, which happened to be the exact cost for chocolate milk in the cafeteria, a talented business man from the start. In high school and college he was the head illustrator for the campus newspapers, winning the states best cartoonist award two years in a row. Although he was granted a full scholarship to attend Pacific Northwest College of Art in Portland,OR, he moved to Laguna Beach in 2002 to attend Laguna College of Art & Design, one of the leading art schools that teach the classical ways of painting the figure and teaching the importance of working from life. After receiving a degree in illustration with a minor in fine arts, Jonathan started studying the early works of renowned landscape painters Edgar Payne, William Wendt, and John Carlson. Jonathan quickly fell in love with painting outdoors, racing to capture and record the moving light on canvas like those artists before him.
"What you see on this site is what I consider to be a small collection of my recent work. Ninety percent of the paintings you see on this site were painted in one sitting out on location, in the plein air style. Along with some God-given talent, I have spent the last 20 years learning, practicing and being dedicated to my craft. Since graduation from Laguna College of Art & Design in 2007, up until the fall of 2012, I have painted outdoors nearly everyday. My art education was a valuable tool, but nature has proven to be the best teacher out there. Through continued hard work I intend to show the dignity of the subjects I paint and always make paintings that speak from the heart."
Jonathan has had several solo and group shows along the west coast since 2002, from Portland, Oregon to Laguna Beach, Hollywood and downtown L.A. Since 2005 he has built relationships with collectors on a national and international scale. His paintings are in private collections across the country, as well as in collections in Mexico City, Denmark, the United Kingdom, Canada, Tokyo, Germany, Australia, and Paris.

As of 2015, Jonathan Luczycki currently resides and works as a full time painter in beautiful Portland, OR.
Education

2002-2007 Laguna College of Art & Design. Bachelor's degree in illustration with a minor in fine arts. Received partial scholarships and grants.

2004-2005 Hipbone Studios in Portland, OR. Attended extensive figure drawing workshops on upper level anatomy studies.

2002- Moved to Southern California to attend Laguna College of Art & Design.

2000- Editorial cartoonist for Portland Community College Newspaper, The Bridge. Won the statewide best cartoonist two years in a row.

1998-2002 Portland Community College. Studied cultural anthropology, astronomy and geology. Associates Degree earned. Received full scholarship.
1997-98 Pacific Northwest College of Art. Studied under Bob Dozono & Al Green. Received full scholarship.
1997-2014 Currently attends figure drawing and figure painting workshops on a weekly basis to further develop my figurative work.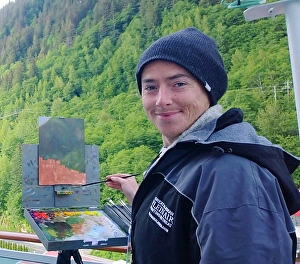 Painting in awe inspiring Alaska 2014